About TGAA
Trevor Gardner and Associates (TGAA) was established in 2000 to provide software, instrumentation and control support for end users of industrial automation technology.
Over the years we have assisted many companies to navigate the complexities of modern day automation. Many of our existing clients have been with us from the start and are a testament to our high level of expertise, dedication and range of solutions.
We approach all, jobs big and small, with optimism and enthusiasm believing that:
The job is finished when the customer is satisfied.
The job is never finished unless the paper work is done.
Always apply the KISS principal – Keep It Simple...
If any portion of a project falls outside of our specific areas of expertise we will advise our client during the consultation process. We can then offer alternative solutions or refer on to one of our strategic alliance partners. Our network of strategic alliance partners enables us to offer a one stop solution that gets the job done right. These include:
Electrical Contractor
Switchboard Builder
Mechanical Machinist and Fabricator
Laser Abrasive jet cutting specialists
Trevor Gardner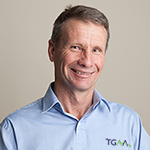 Trevor Gardner has over 30 years of experience in the industrial automation industry.
Beginning as an instrument fitter in an era when instrumentation was largely pneumatic Trevor has experienced many changes in automation technology.
The increased popularity of electronic instrumentation prompted him to complete an Associate Diploma in Industrial Instrumentation to compliment his trade qualifications. Further development in the automation world, with the widespread application of personal computers, saw Trevor completed a Computer Science degree. This unique skill set allows him to analyze problems from the control valve to database and all stops in between.
Trevor has been involved in many industries including:
Chemical Processing – Alumina Refinery
Water and Waste Water Treatment
Printing Industry
Hospitality
Wine Processing
Waste Treatment
Coal Testing
His particular interests, apart from building robust control systems, are:
Image capture and analysis
Rebuilding legacy system to accommodate current technology
If you would like to talk over your automation requirements or you are just not sure where to start with that next project, please give Trevor a call.